Welcome to Year 5!

Your Year 5 team for this year are:
GOOGLE CLASSROOM
Each day there will be two different learning tasks the children MUST complete on their Google Classroom - Google Classroom can be accessed through any device with internet. There will also be a weekly project that should be completed over the course of the week. How do I log into my account? The children's usernames are the first letter of their first name followed by their whole surname@pilg.uk. For example, if your child's name is Bob Dylan, their Google Classroom username would be: bdylan @pilg.uk. The password to login into your child's account is the password they use everyday in school - if they forget this please contact the school. When using Google Classroom it is really important to submit your work after you have finished, otherwise I will not be able to see that the work is complete. What if I don't have access to the internet? Learning packs can be collected from the school if you are unable to connect to the internet.
There will be new tasks posted on Google Classroom everyday!
The project this week aims to provide opportunities for your child to gain a better understanding of their own family. Learning may focus on the different makeup of families, what traditions your family has, stories linked to your family etc.

● Music from the Past - Your child can research music from the decade their parents, grandparents or other older family members were born. What were the most popular bands or singers during this time? Ask them to perform a song from this decade and create their very own dance routine. Encourage them to explain how they need to improve their performance in order to achieve their personal best.

● Portraits and Photography- Direct your child to take portrait photographs of their family members considering light and textures. Following this, they can then use
the photographs to draw portraits in pen considering light and tone.
Maths Challenge of the Week
Here is the maths challenge for week 1 - I know that some of you had a go at this in class, but I don't think anyone manged to complete it! Good luck!
Home-Learning Guided Reading
Every child in Year 5 should participate in reading everyday. The first guided reading book for the whole of Year 5 will be Private Peaceful. Children can have the story read to them by clicking on the following link: https://www.bbc.co.uk/teach/school-radio/english-ks2-private-peaceful/zjc2d6f Each week there will be a set of questions that the children MUST complete based on each episode of the book. The children will complete the questions on Google Classroom and submit the work by Friday of each week. Each question is fairly challenging, so the children may wish to just complete 2 question a day. This is a wonderful book, enjoy it!
Joe Wicks is running a live PE lesson every Monday - Friday at 9am on his YouTube channel. Make sure you partake everyday; it is really important you stay fit and healthy over the next few weeks!!
Home-Learning Fun
Each week we will have a photo and song of the week. The winner of the photo/song of the week will be published on the website. Remember to have some time to yourself and relax. Enjoy listening to music or sit back and have a look at some old photographs. If you want to submit a photo or song for the website please share it with me on Google Classroom or contact the office. Here is my photo and song of the week to get us started:
Here is a picture of me in Year 4 at the summit of Mount Snowdon with my brother Tom and Mr Sverha.
Don't worry, I already know what you think of my music taste! This is what I have been relaxing to this week anyway... Make sure you contact me so we can update the song as soon as possible!
Science - Term 3 topic: Space
To kick start our new science topic, Year 5 visited Rochester Cathedral on Wednesday 4th March to see the Museum of the moon. Created by UK artist Luke Jerram, the Museum of the Moon is a touring artwork which has been presented in many different UK Cathedrals and museums. It was a great start to our topic!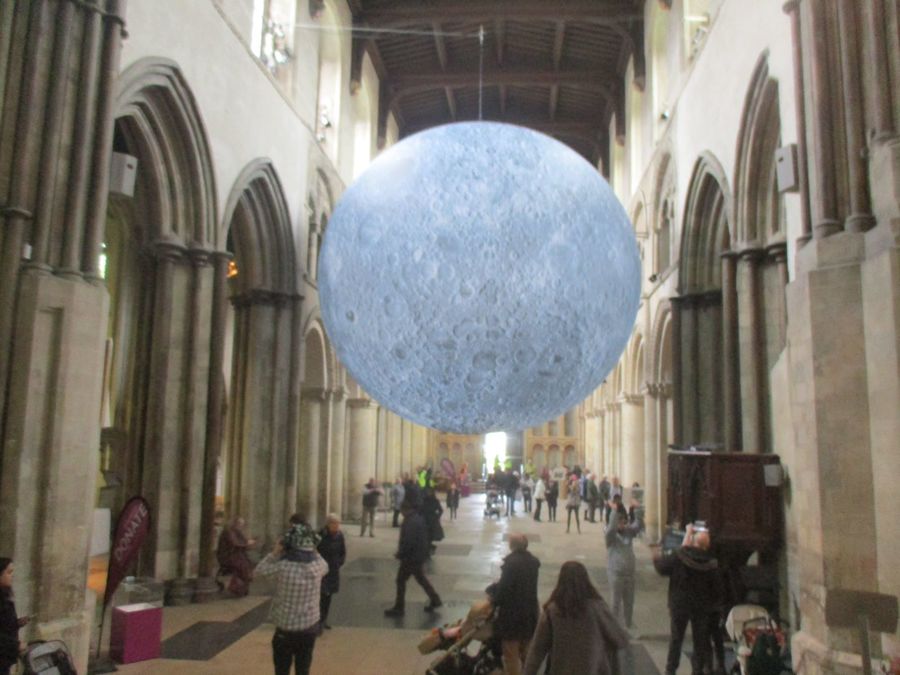 English/History - Charles Dickens
After our trip to the Cathedral, we were lucky enough to squeeze in another outing and to tie in with World Book day; we were taken on a Charles Dickens tour by Mr Moriarty around Rochester.
We were all excited by the knowledge we learnt and it definitely inspired us to get into character on World Book day!
Reading Buddies
Every Friday, Year 5 are lucky enough to visit Oaktrees and share a story with their partnered reading buddy.
Religious Education -Topic -The People of God
This term in our RE lessons we have been looking at what it means to be a person of God. Within the topic area, we will be focusing on different elements to see how following God can bring Freedom and justice.
Homework
Monday - 15-20 minutes reading, 10 minutes TT Rockstars
Tuesday - 15-20 minutes reading, 10 minutes TT Rockstars
Wednesday - 15-20 minutes reading, 10 minutes TT Rockstars
Thursday - Extended Learning To be given in the following Tuesday.
Friday - 15-20 minutes reading, 10 minutes TT Rockstars
Kit Timetable
Tuesday - P.E
Alternate Friday - Forest School /swimming