Hello Oak Trees 
Welcome to your very own class page.
This is where we will be sharing all the exciting things that you've been doing at school and celebrating the fantastic learning that you do.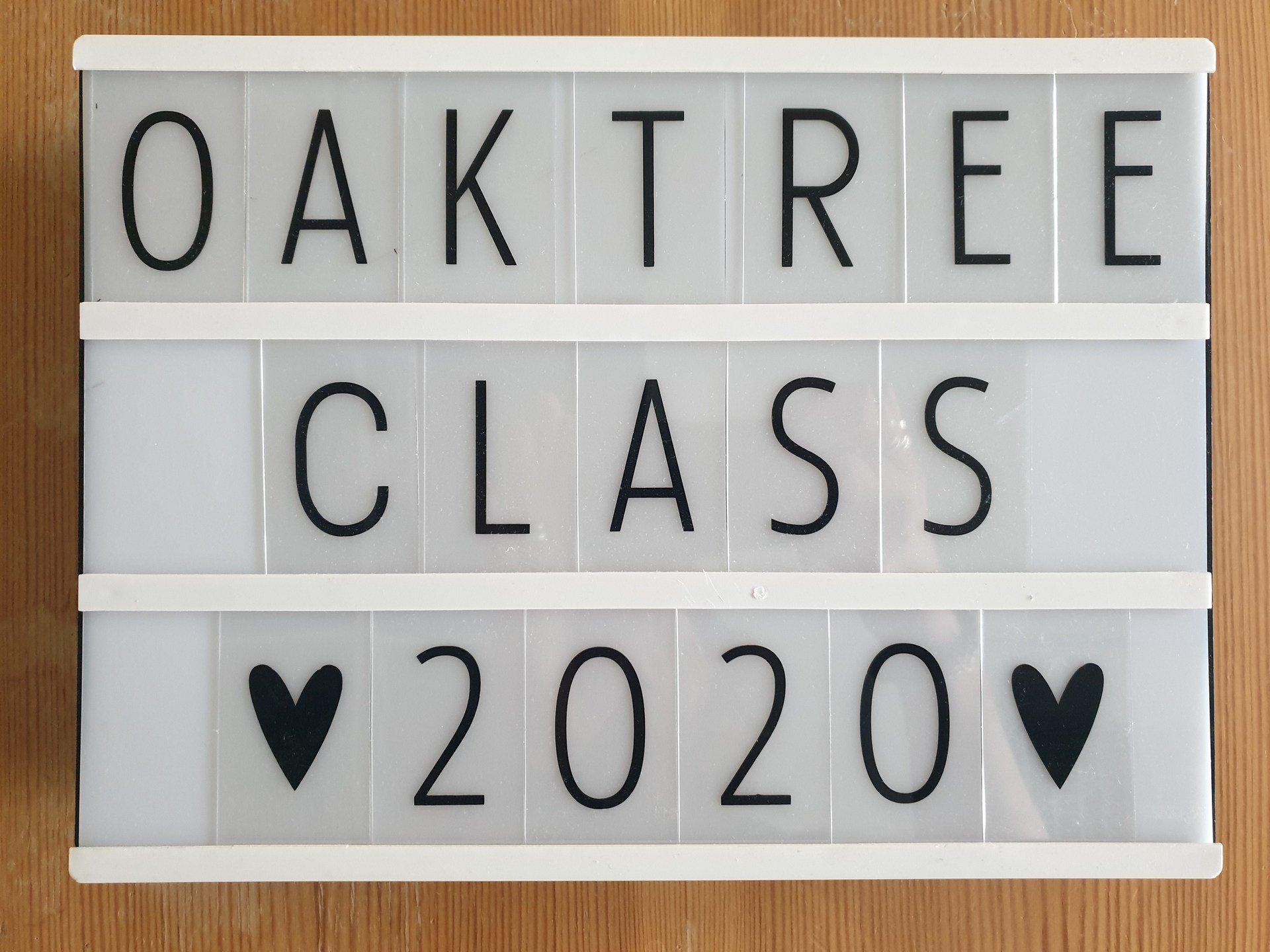 We are really excited about sharing your adventures with you this year.
Don't forget:
To bring a water bottle each day filled with water.
A spare change of clothes in a bag to stay on your peg.
Welly boots that can stay at school.
PE is on Friday and children are to come to school in their PE kits.
Our current lunch menu can be found here and is starting on 21st September.
Click below to open j2e and access your online learning and reading record.
There are some instructions below on how to access and use j2e.
Home learning for the week can be accessed in your J2E shared file.
An outline of the phonic activities will be in your child's shared folder and can be accessed in the homework folder.
We are here to help so please don't hesitate to email or message through j2e if you need any support or further advice.
Due to our Early Years Practise in school we will often create learning opportunities through children's interest. Please continue to share the opportunities you may come across at home on our Padlet board.
Keep being the super stars that you are Oak Trees ⭐⭐
We hope to see you again as soon as we can!
We will remember them
We had a very special morning together taking time to remember those people who lost their lives in the War. We laid our wreaths and were very lucky to have a visitor from the Salvation Army who played the 'Last Post' on the bugle. We all made our own poppies and stood with the rest of the school to take part in a 2 minute silence.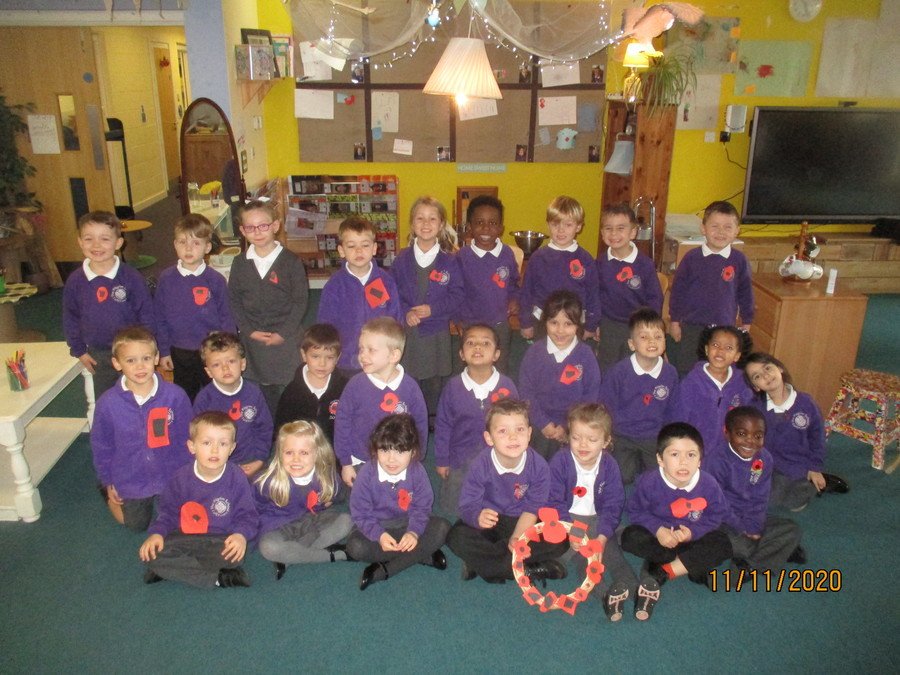 In the garden today we learnt how to use the mops in a slightly different way, there wasn't any cleaning involved! We were taking it in turns to makes patterns on the floor in the soapy water and discovered that we could make huge shapes. What a great way to develop those gross motor skills!
There was a lot of team work going on today. We decided to use the large hollow blocks and we made our very own track to follow. It got a little bit busy at times but we worked out how we could make our way around it all. There were some parts that were tricky and involved some balancing and every now and then we also needed to check that it was all still safe to walk on.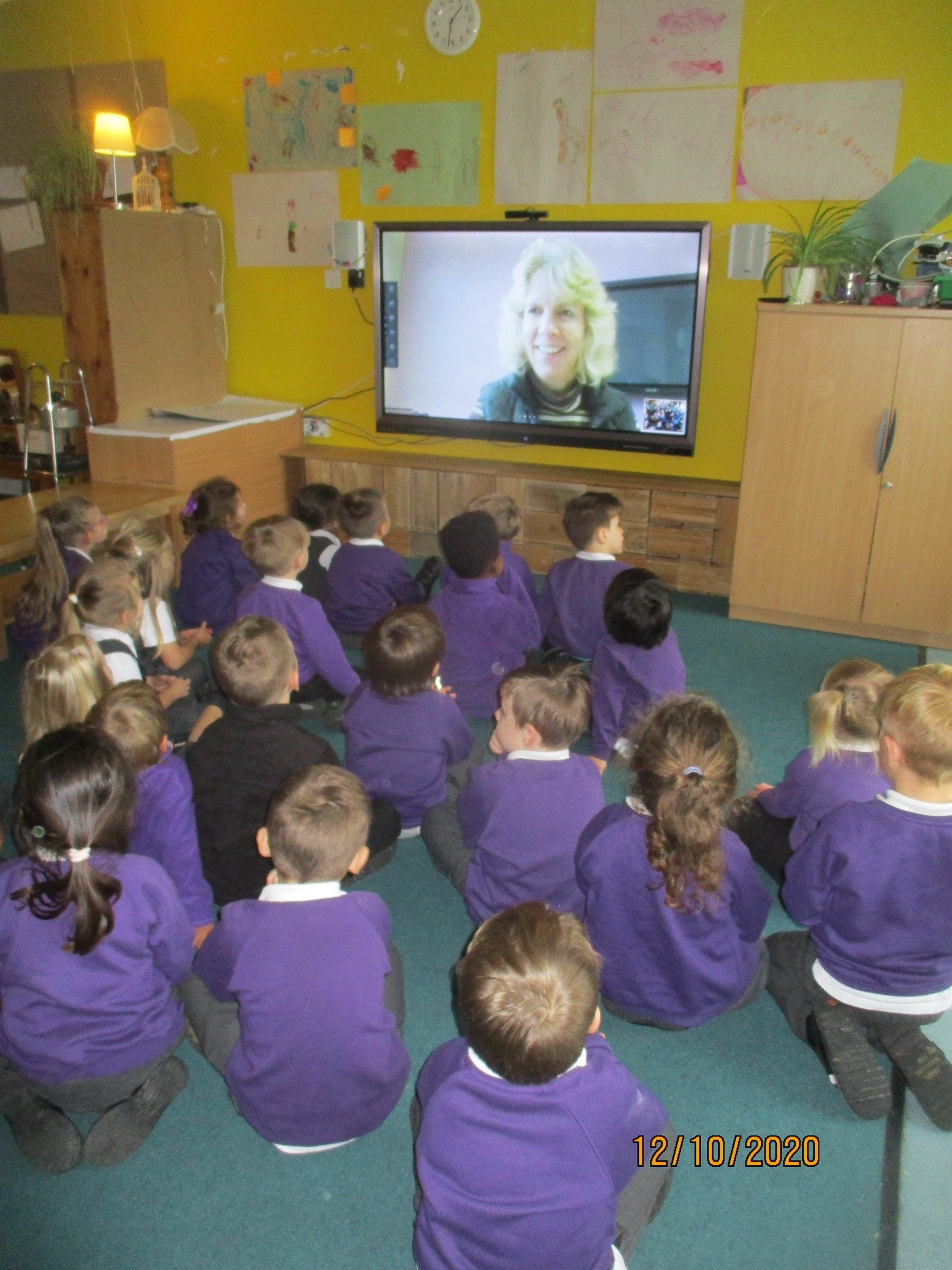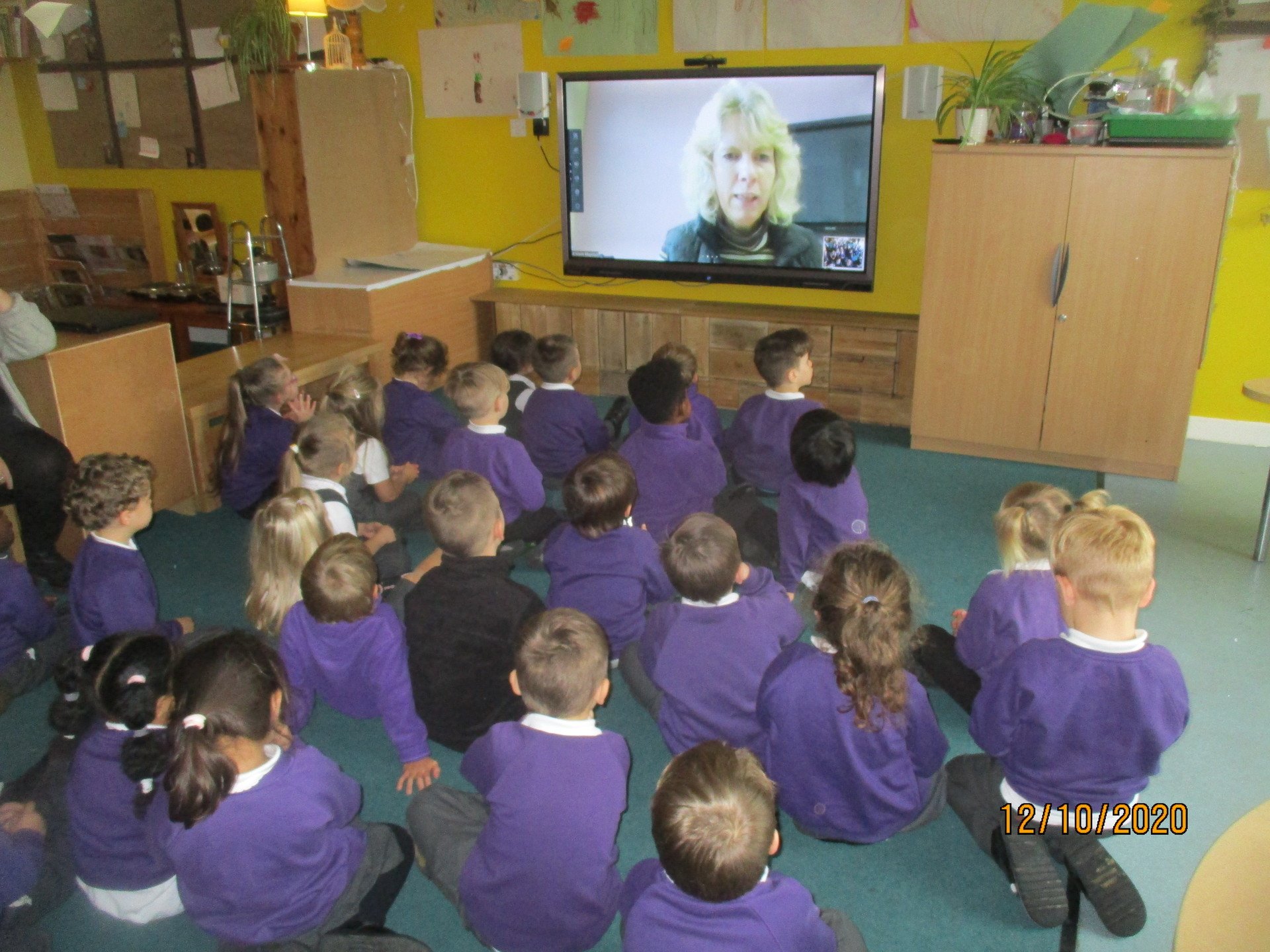 On Monday we took part in our very first whole school video worship.
We saw Mrs Mepsted and had the chance to see the other children in their classrooms too.
We listened to the children in each class talk about our school values and then talked about how we can make the right choices in our classroom as well.
It was so exciting to see everyone on our board and it was even more exciting to see ourselves on the screen too.
We look forward to joining the special mention worships soon!
Today in PE we were moving in different ways. Some movements were a little more challenging than others and made our muscles work extra hard!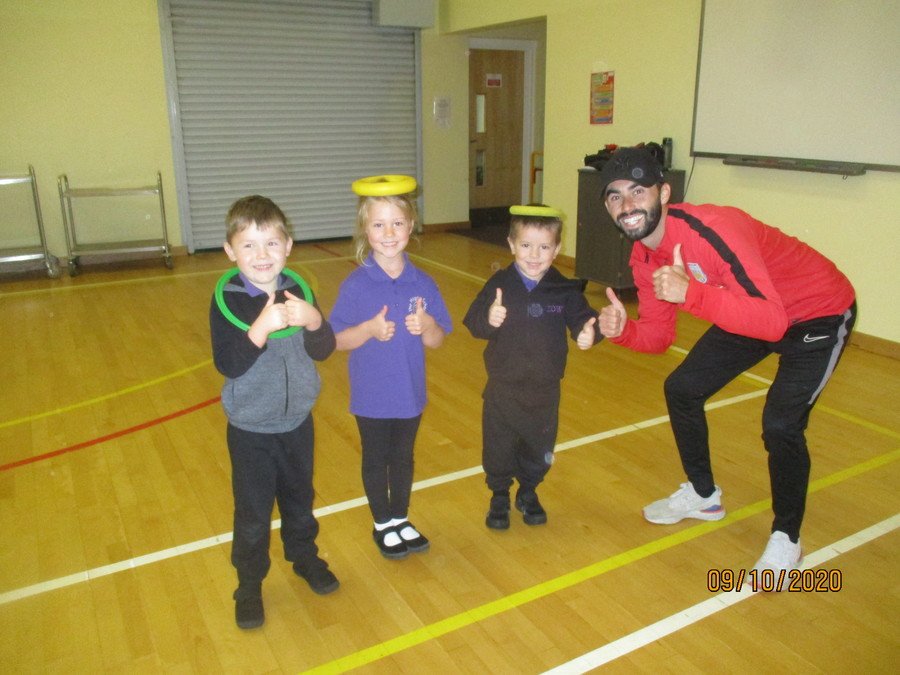 We have been busy painting but we used something different to paper, we used clingfilm instead! It meant that we could see each others paintings and we were keen to talk about what we noticed about each others work.
We have started to use some more of the resources in our room to create with this week. Some of us have been putting our building skills to the test and using the pieces of wood and CD's to construct with and some of us have been making crowns and thinking about the different ways that we want them to look.
Before lunch time we were practising our handwriting patterns, these will all help us to form our letter shapes.
Macmillian Coffee morning 2020
It's Mr Thacker Friday!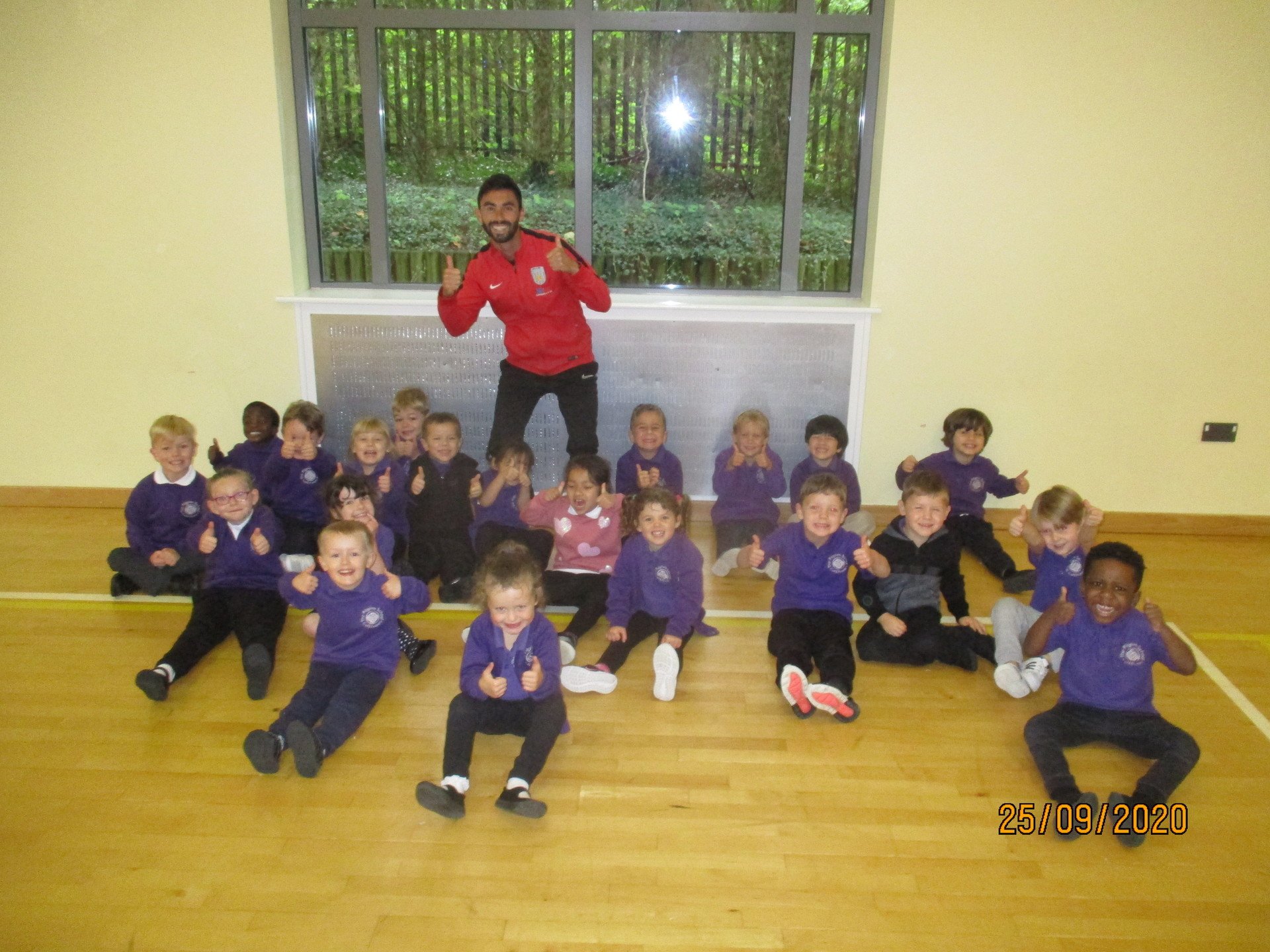 Today we met Mr Thacker and had our first PE session together.
We were playing some games and we had to make sure that we were listening very carefully to the instructions. Sometimes Mr Thacker tricked us but we tried really hard!
We also tried some exercises to help our tummy muscles get stronger.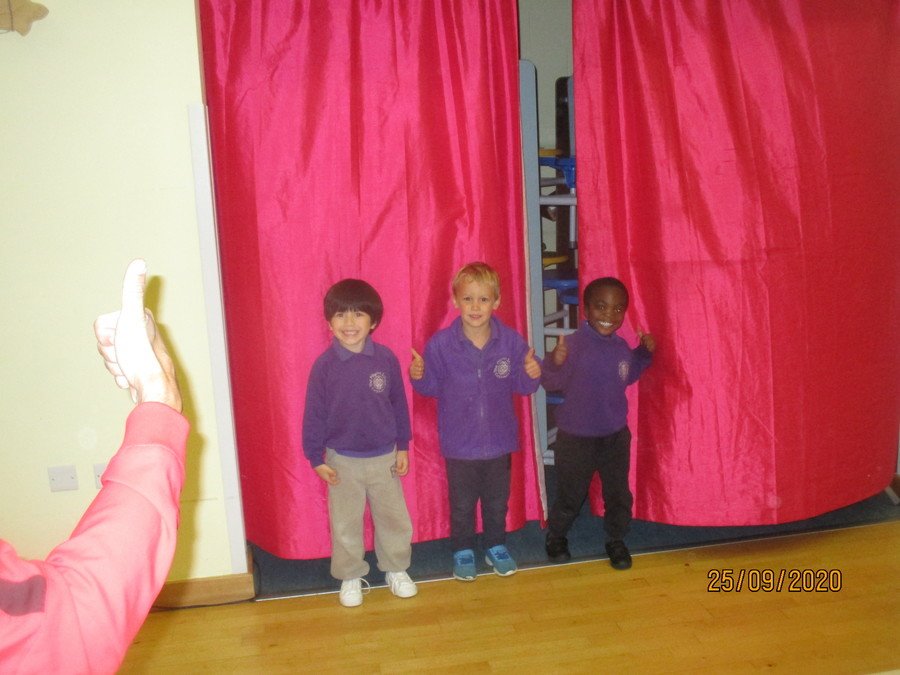 There are lots of different things in our garden that we are learning to use. Today we used the long paintbrushes and they helped to get our arm muscles working. Some of us were working together as a team to create a wall using the bricks and we then used the long paintbrushes to decorate it. We even tried using a trowel to add some wet sand to help cement our bricks together.
We have been really enjoying our garden and discovering what we can do. There has been lots of teamwork and we've been helping each other with problem solving too, especially when it came to making our own den!
Some of us were helping to do some weeding in the garden and we found a little visitor. We made sure that we didn't touch the caterpillar and moved it to a safe place so it could munch on some leaves.
On Tuesday we came to school and it was really foggy. We loved seeing what had happened to the spider webs in the garden. We wonder if Spinderella (our class spider) could see them glistening through the window?
We discovered a spider in our classroom and decided to call her Spinderella just like the character in our book that we read. It didn't take long for us to draw and make messages for her to see. We hope that she enjoys looking at them.
This week is exciting as we are staying to lunch for the first time. We are the only class that goes onto the hall and we were excited to have burgers and wedges for our first lunch together.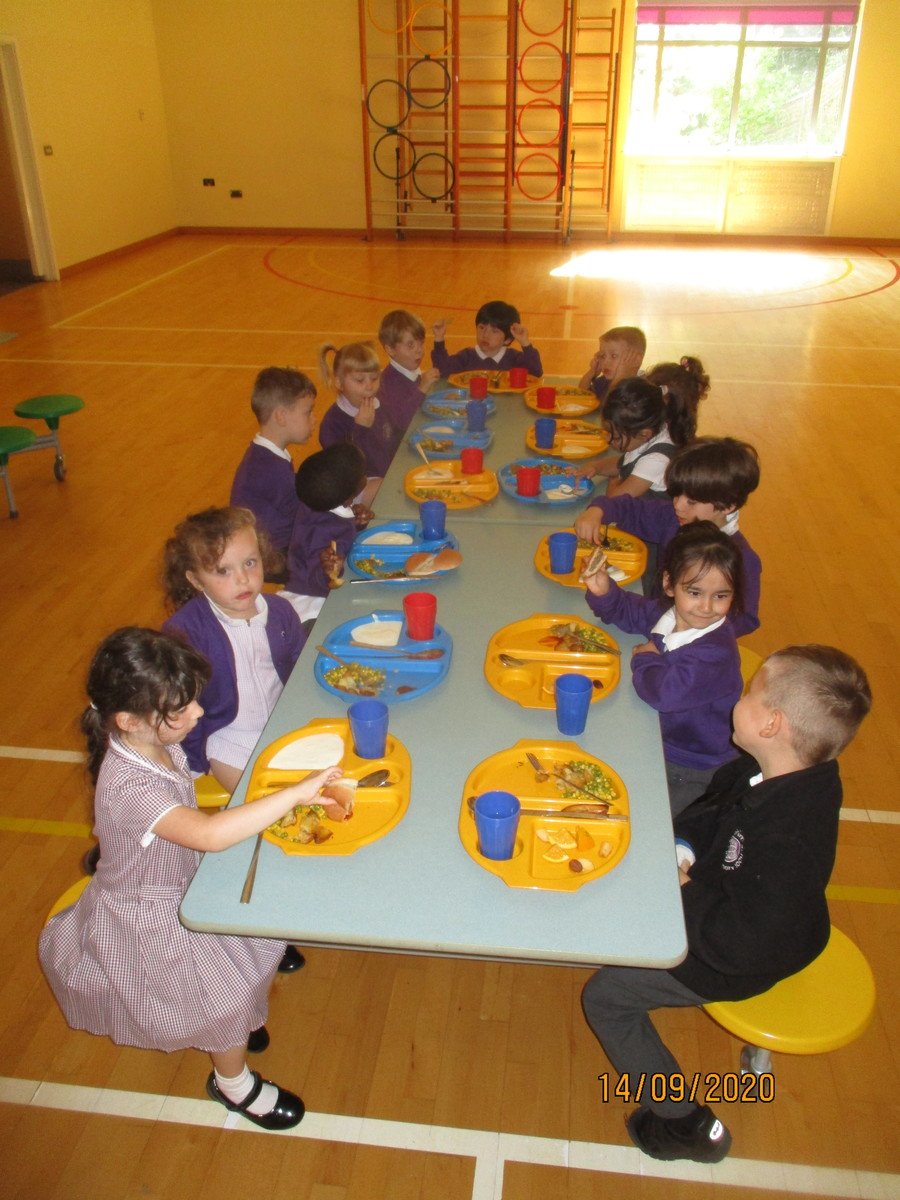 We can't quite believe how quickly our first week zoomed by. We were so happy to see your smiling faces on the playground and Mrs Dell and I were so proud of how well you came into school. You were all so brave!
We have had some new rules to learn and you have become quite the experts at washing your hands!
We had a great time using the trim train on the field and exploring what we could find!
Take a look at the video to show you the way into school.