Year 1
Miss Cadby is our Year 1 teacher and Mrs Wadlow is our teaching assistant.
Our Pilgrim vision is the driving force behind everything we do as we explore together the two fundamental questions of,
'Who are we?' and 'How do we live?
Who are we?
We are Year One Pilgrims!
What does this mean?
It means we are kind, trustworthy and honest!
It means we try our best and persevere!
It means we live life in all its fullness!
We enjoy learning together.
What are we going to be up to this term? (Term 2)
Maths - Term 2 Overview for phonics - Term 2 Planning web for Term 2
This is our "Human Numberline"
human number line for desks.pdf
We will be working on these books this term.
Look at the work we have done based on "The Colour Monsters" and "Dandylion" We love the messages the books give us. We have also worked on "The Huge Bag of Worries" These stories link so well with our PSHE learning.
Year 1 - Colour monsters
We loved the story about Dandylion! Annie suggested we recreate one of the pictures, so here we all are pretending to be Dandylion's friends and teachers.
Homework
It is our aim to provide regular homework, which prepares your child for an activity, reinforces work in class or gives the opportunity to develop essential skills through open-ended exploration on a particular theme. It will also give you the opportunity to see what your child is currently learning in school and become involved in this.
Homework is set on a THURSDAY and is due in the following TUESDAY. Our homework will be set in our homework book each week for your child to complete and bring to school to be marked.
Reading
As a school we aim to promote the love of reading; it plays such an important part in the children's lives.
We would love each child to have the opportunity to read at home at least 3 times a week and for them to bring their reading record in every day. Each child will be able to change their reading for pleasure book each day so they can read a book that really interests them.
Each child will also have the chance to read with an adult 3 times a week in our guided reading sessions using a book that is matched to their phonic knowledge. Each read will focus on a different skill which will allow children to build their reading fluency. This book will be 'allocated' on the Collins e-book website to allow them to embed these skills at home. (If you need the login details again, please feel free to see me!).
All reads should be recorded in your child's reading record and please write any comments about how your child has read or about the book they are currently reading. These reads will count towards their reading rewards, where they will be celebrated each time they reach a certain number of reads.
We have a Reading Café which runs twice a week during lunchtime at school. This provides children the opportunity to gain more reads, along with having a nice milkshake and biscuit! We are also very fortunate to have a volunteer who comes in twice a week to listen to the children read. This gives the children the chance to read with someone new, as well as gain more reads!
We have created a very special "Reading Den" where we can share and enjoy our favourite stories.
Reading for Pleasure
Photos showing us setting up and using our "Reading Den"
We love reading - especially with our reading buddies Click here to see some photos.
Phonics: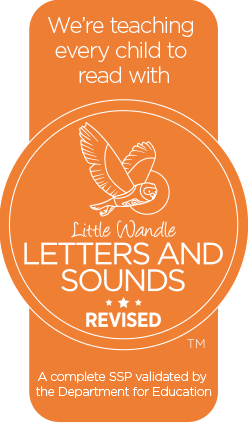 Teach reading: change lives!
We use Little Wandle to help teach children the skills and love of reading.
Click here to visit the Little Wandle Parent Page
On their website you will be able to watch videos to hear how the graphemes are pronounced, how to write letters along with how you can support your child with their reading skills at home.
Children participate in a daily whole class phonic lesson which follows the structure of review, teach, practise and apply. Children will be taught new graphemes and reading/ writing skills whilst being able to revisit prior learning along with practising and applying their new phonics knowledge.
PE and Forest School
P.E. is on a FRIDAY. Children are to come to school in their P.E. kits and remain in them throughout the day. P.E lessons are often outside, so please make sure that pupils have the appropriate clothing!
Forest School is alternate THURSDAYS starting from the second week back after each half term. Children are to come to school in their Forest School clothes (but normal shoes) and remain in them all day. Please ensure the children are wearing old jeans and a long-sleeved top and have named wellies in a bag to change into.
We are explorers in Forest School
We are great mathematicians!
We are super scientists!
Click here to see our scientific work for Term 1 (Animals including humans / Senses)
Look at what we have already learned!