COMPUTING
Some of our '#Living In A Digital World' projects
Term 3&4 topic


Whole School Project
(click on the image below to open as PDF file)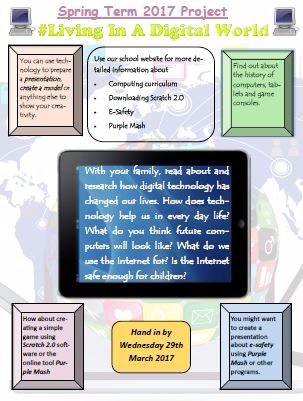 Use the Link below to find out all that you need to know about primary computing and much more!


Parents Section
What your child learns in KS1 computing
What your child learns in KS2 computing
To find out about the Internet safety, visit our E-Safety page HERE.
PURPLE MASH
To use Purple Mash at home, click on the link above. Your child should have the log in details. KS1 parents might want to ask the class teachers for the logins.
Purple Mash is packed with creative content related to primary Computing as well as the subjects across the curriculum. Your child can use it to create a digital content of their choice and save it on their account. At school, we are be able to print their work as well as publish it on our website for parents to view.
Feel free to discuss any details with a class teacher or our ICT coordinator Mr Sverha.

Helpful Links